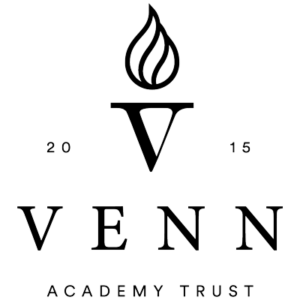 A Venn Academy Trust School
- Together we will...
Venn is a pioneering academy trust, committed to building educational environments where all pupils are inspired to become lifelong learners who achieve the very highest standards possible. Collaborating with all partners, the Trust works with its unique settings to create world class learning experiences for all.
Registered address: The Venn Building, Venn Boulevard Centre, 172 Boulevard, Hull, HU3 3EL.
A charitable company limited by guarantee registered in England & Wales (company number: 09662303).
Our Curriculum
The aims of our school curriculum are:
to enable all children to learn and develop skills and knowledge to the best of their ability;
to promote a positive attitude towards learning, so that children enjoy coming to school and

acquire a solid basis for lifelong learning;

to teach basic skills in English, Mathematics and Computing;

to enable children to be creative and to develop their own critical thinking;

to teach children about the developing world, including how their environment and society

have changed over time;

to help children understand Britain's cultural heritage;
to enable children to be positive citizens in society, within their community and the wider

world;

to fulfil all the requirements of the National Curriculum (2014) and the Locally Agreed

Syllabus for Religious Education;

to enable children to have an awareness of their own spiritual development and moral

understanding;

to help children understand and value the importance of truth and fairness, so that they grow

up committed to equal opportunities for all;

to provide opportunities for our children to be aspirational, believe in themselves and be

resilient.
My favourite lesson at school is English. I can let my imagination run wild!
I love doing sports at Griffin. It keeps me fit and healthy!
I like school because we do lots of fun activities!
The best thing about school is seeing my friends and the teachers.
It is really easy to make new friends. That is an amazing thing about this School!
I love doing our Thursday activities. They're fun and teach me something new.