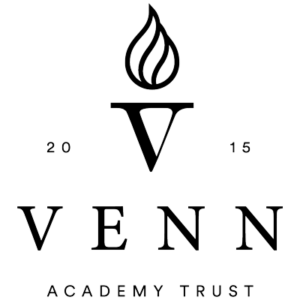 A Venn Academy Trust School
– Together we will…
Venn is a pioneering academy trust, committed to building educational environments where all pupils are inspired to become lifelong learners who achieve the very highest standards possible.

Collaborating with all partners, the Trust works with its unique settings to create world class learning experiences for all.
Registered address:

The Venn Building,
Venn Boulevard Centre,
172 Boulevard,
Hull, HU3 3EL.
A charitable company limited by guarantee registered in England & Wales (company number: 09662303).
Attendance
We believe it is vitally important that the children attend school every day to allow them to benefit from the rich curriculum that is offered.
Good attendance and punctuality are important if teaching and learning time is to be maximised and the child is to receive a full curriculum entitlement.
The school aims to achieve good attendance and punctuality by operating a policy within which staff, pupils, parents and the Education Welfare Service can work in partnership.
The school monitors attendance and lateness, and addresses any problems identified.
Parents have a responsibility to ensure that their children receive full time education. Regular attendance is essential if children are to progress with their learning.

Working together:
It is the parent/carers legal responsibility to ensure their child/children attend school regularly unless they are ill. The school has a responsibility to do all that it can to ensure this happens.
Children under legal school age All parents are informed of the expected level of attendance and if the Foundation Unit is over subscribed the Headteacher has the authority to withdraw a place from a child who has a poor attendance record.
It is our collective responsibility to impress on the children and parent/carers that regular attendance is important.

Leave during the school day:
This is given for medical and dental appointments by prior arrangement with the school. Parents/carers must sign the appropriate book in the school. The office staff will ensure that this is done. If possible we ask parents for proof of medical appointments.

Reporting your child's absence
If your child is ill you should contact the school office on the first day of absence before 9.30am. In order to safeguard our children the school will contact the parents of a child if we have not received a notification of absence.
My favourite lesson at school is English. I can let my imagination run wild!
The best thing about school is seeing my friends and the teachers.
It is really easy to make new friends. That is an amazing thing about this School!
I love doing sports at Griffin. It keeps me fit and healthy!
I like school because we do lots of fun activities!
I love doing our Thursday activities. They're fun and teach me something new.